Did you know ? How to reduce your ecological footprint in terms of electronic waste ?
In 2018, 939 million pieces of electrical and electronic equipment (all categories combined) were placed on the market in France, which represents approximately 1,928,995 tons, that will eventually end up in our waste stream. This equipment often contains environmentally hazardous substances or components. To address these environmental issues, the European Union has conditioned the management of this waste, with the WEEE/D3E.
WE ARE ALL CONCERNED !
To date, the management of WEEE (Waste Electrical and Electronic Equipment) allows companies and individuals to significantly reduce their environmental footprint.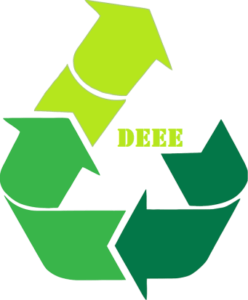 Extended producer responsibility (EPR) channels, are specific arrangements for the organization of prevention and of waste management that concern some types of products. The collection and processing of WEEE through these channels, allows to limit the waste of natural resources necessary to their conception, but also, to avoid the dissemination of some pollutants.
Taking care of your WEEE, it, is therefore a regulatory obligation that allows for a significant reduction in its environmental footprint.
In order to properly manage its WEEE, it is necessary to know which products are considered as such.
All mains powered products, by batteries, constitute the WEEE. For companies, this represents a large amount of waste (printers, computers, monitors, cell phones, GPS, cameras…). These objects must therefore be depolluted before being recycled, and not simply thrown away in a classic garbage can.
Suppliers and individuals are concerned with the recycling and safe disposal of WEEE.
Recycling and destruction ok, but what happens to your data ?
The protection of your data is also an integral part of the WEEE management process, final disposal and recycling process. End-of-life electronic equipment poses the problem of how to manage your data (navigation, files, privacy, …). Destroying a reformatted hard drive, not enough. Therefore, it is necessary that this material be rendered unusable before being destroyed and recycled. We advise you to entrust the management of your WEEE to a serious company, who is committed to the final disposal of your data, personal or professionals.
And at Yatoo, what do we do ?
For example, when renewing your fleet of tablets, know that we can recover your old equipment. As a supplier, we are obliged to take back our own equipment for WEEE. When renewing equipment, whether they are products that we have sold or not, we can recover old equipment to give it a second life.
When we pick up your equipment, we sort out the different components in order to recycle the still viable elements. When possible, equipment will be refurbished to extend its life. As for the equipment that is too worn out, it will be placed in WEEE.
With this in-house recycling, we are able to offer companies a use computer or tablet. Our wish, is to make recycling possible in order to satisfy the ecological stakes as well as the needs of some of our customers. By restoring the used equipment to its original condition, we extend its life span and reduce the volume of WEEE at the moment.
If you wish, we also take care of the destruction in WEEE. We ensure the management and the follow-up of your material, as well as the transport of your old material. As a company, we have a
moral and legal obligation to protect our customers. For this, at each recycling, when the process is complete, a certificate of destruction will be issued to you.
See our blog post on hazardous material's management below :